The National Union of Mineworkers (NUM) developed from regional coal mining trade union activities and requirements. These needs had been gradually developed in the coal mining industry areas of Britain, which had begun as early as the 18th century as temporary organisations set up during times of protest and strike, to evolve by the 20th century into a central and united national force, culminating in the establishment of the National Union of Mineworkers on 1st January 1945.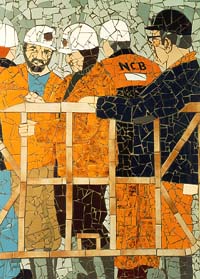 Regional mining trade unions were strongly established previous to 1945 however, and a national structure was established in the form of the Miners Federation of Great Britain (MFGB) in 1888. Its intention was to represent the interest of the miners throughout the nation, and therefore gain strength in its unity.
Similarily, following an unsuccessful strike in 1898, the South Wales Miners Federation (SWMF commonly known as "The Fed") was formed to unite and oppose the strength of the local coal-owners and coal companies. With the advancement towards nationalisation of the coal industry, the MFGB re-formed its constitution, and became the National Union of Mineworkers in 1945. The SWMF became the NUM (South Wales Area) one of 20 areas which were established. This has included the Forest of Dean since 1940, and Somerset since 1960, within its region.
The records of the NUM (South Wales Area) central administration which are held at the University Archives consist of 23 volumes, mainly minute books and accounts, and 563 files of correspondence relating to a wide range of topics relating to the mining industry.
There are also the papers of the Lodges and Joint Lodges, which were the local affiliated branches representing the collieries. The NUM collection also contains records relating to the Miners' Institutes, which were both a social and cultural focus for the miners and their families, providing educational facilities, welfare provisions, and recreational activities, which included galas and Miners' Eisteddfodau.