There are thirty nine banners in the SWCC. Twenty seven of them are from National Union of Mineworkers(South Wales Area) Lodges, while the other twelve are from a number of different groups. These include a banner from the Krasnaya Presna Working Women brought back from the USSR by a delegation of miners headed by A J Cooke in 1927, and a banner from a delegation of Chinese miners.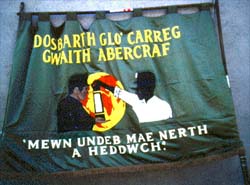 The banners are made from a variety of materials, ranging from silk and velvet to plastic and even a hospital bed-sheet. They vary in size; from the largest measuring 247 x 274cm, the smallest at 22 x 30cm.
The list has been structured so that all the NUM banners are listed first, and the banners from other bodies listed next. It should be noted that many of these banners do not belong to the University, but have been kindly deposited there by the NUM (South Wales Area).